Survival 1.16 Reset
Hey everyone! We are excited to announce that the Survival Realm is resetting very soon! This means the map will be wiping completely, and you get to start fresh - with awesome new custom additions and features!
Realm Information
The new Survival map will be released this Sunday, April 11th @ 1:00 PM EST / 4:00 AM AEST / 6:00 PM BST.
Of course, with a brand new reset, comes a shiny new spawn. Take a look at what you can expect to see below:
Updated /teams
The Teams menu has had a number of new additions that you can look forward to using in the upcoming season. These new settings and commands allow you to customize your team's settings in more depth, and make life just that little bit easier.
Team Renaming
You can now rename your team in the Team Management section of the /team menu, by clicking on the Manage Team Name icon.
You can also type /team rename [new name] in chat.
Nearby Claims
Check to see if a particular block is inside your claim area or not, by going to the Claim Management section and clicking on the Check for Claims shovel. The claim check will last for 2 minutes, or until it has been manually cancelled and will allow you to click on blocks to check them.
Alternatively, you can use the commands /team checkclaim and /team stopcheck to begin and cancel the claim check.
Top Teams
You can view the 9 teams with the highest team balance by using the command /team top. You'll be able to view who owns each island, what position they're currently in and how much money they have.
Monsters vs Mobs Damage
We've added a new Claim Flag that you can access after creating a claim and going to that claim's Manage settings menu. You can now toggle whether or not you want monster type mobs to be able to deal damage other mobs in that particular claim.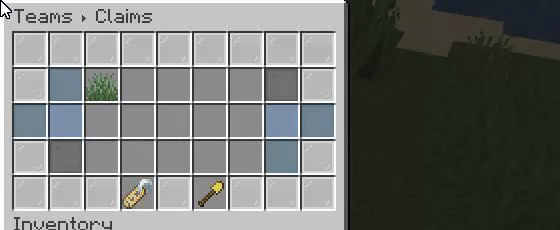 Claim Spawn Location
You can shift-click a claim in the /teams menu to set or change that claim's spawn location. Simply stand in the area that you wish to be your new spawnpoint, then shift-click the correct claim in the menu - make sure that you are standing in that particular claim, otherwise the spawn location will not be set.
Public Claim Flags
Customize what members of the public can do in your claims by shift-clicking on the Public Access section in a Claim. With these new settings you can create public grinders by allowing players to kill mobs in your claim.

Simply left click on which setting you'd like to define and cycle through the options until you see the desired one.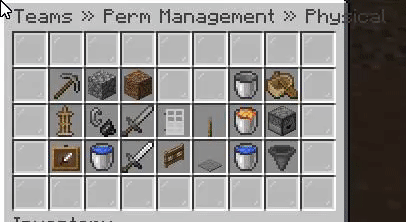 Additional Changes
Here are a few smaller changes that we have made to Teams:
- Added a confirmation menu when you are leaving a team, deleting a team or deleting a claim.
- You can now view your team's claim borders using /team checkborders
- Added /team info [team name/IGN]

- Updated enter/exit messages and made them fade after 5 seconds (previously 10 seconds)
- You can now claim in the Nether
- Added command list - accessible via the command block icon in /teams or /team commands
/Challenge
Introducing the new daily challenges! Every day there will be a new challenge to complete where you earn rewards upon completion. Do /challenge to bring up the menu that shows what the current daily challenge is, how much you've contributed to it, what the rewards are, and who the top players are.
Challenges can range from mining ores, chopping trees, killing mobs and more. You can also claim any unclaimed rewards from Daily Challenges by clicking on the Nether Star.
/Pass
The Prime Pass has been added to the Survival realm - complete a variety of challenges to win rewards! The challenges vary from killing a certain amount of mobs or gain levels, to collecting particular ores or creating items.
When you complete the challenges, the rewards you receive are definitely worth your time. You can win spawners, claim blocks, keys, pouches, money and more! There are 100 challenges, so plenty of rewards to grab!
Players who have purchased the Premium Prime Pass from our server store will get 2 rewards per challenge completed compared to the Free Pass that every player automatically has access to. Grab yourself the Premium Prime Pass from the server store at buy.primemc.org.
Supply Drops
Introducing Supply Drops! Every 3 hours, 10 supply drops will spawn in random areas across the map. Locate them and take their loot that comes in 3 tiers - Common, Rare and Legendary.
The coordinates of the chests will be shown in chat, so be sure to grab them before anyone else does! Chests can be anywhere, from in the water to in trees! Prizes consist of money, boosters, unique tags and more.
You can also use a Supply Drop Flare to spawn them, Flares are available in crates and the Prime Pass.
Mob Heads
Every mob in the game apart from the Ender Dragon has a rare chance to drop their head when you kill them. This means you can use these heads as decoration around your base, and perhaps try collect them all!
Lock Signs
You can now lock your personal chests, barrels, shulker boxes and doors by using signs! Simply type [lock] on the sign, with your IGN on another line. After doing this other players will no longer be able to access that locked item unless you remove the sign.
You can also add 2 additional IGNs to the lines underneath, if you want to allow multiple people to have access to that locked item.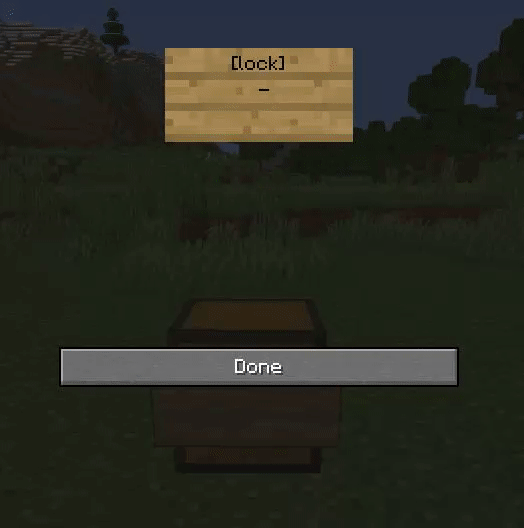 Boosters
You will now be able to obtain Job EXP or Money boosters from the Prime Pass, Skydrops, crates and the server store. Increase the amount of money or exp you receive from Jobs for a certain amount of time when activated.
Check to see how long there is left on your booster by doing /boosters.
Leaderboards
View who the top players are in the new Leaderboards menu! View who's pulling their weight in your personal Team, or see who's grinding out the statistics in the Player and All Team leaderboards. Access the menu using /lb.

Each section of the leaderboards is split into 7 categories, and you can view the top players or teams for each one by clicking on them. Categories vary to highest play time, to most blocks broken.

Pouches
There are a number of ways that you can get one of the new Pouches on Survival, either from the Prime Pass, Supply Drops, crates or server store! There are 4 different types of Pouch - Money, mcMMO, Experience and Claim Block. Each type of Pouch has 3 tiers, with Tier 3 being the top tier.

Balancing Changes
We have made a number of balancing changes to Jobs and mcMMO on Survival this season:
Jobs
At Spawn, you'll find the Job Manager, who can offer you up to 3 of the jobs they have available. Whilst you're a part of any 3 of the 12 jobs there are to choose from, you'll be able to earn money, points and EXP from completing a particular task associated with that job. For example, you'll be able to earn money, points and EXP every time you kill a certain type of mob if you're working the Hunter job.
Jobs are important as they are a great way of getting passive income as you play on Survival day-to-day, so we've spent the time balancing out jobs to make them fair and more realistic.
The base amount of money you'll receive from killing certain mobs in the Hunter job has been balanced:
Creeper - $12 previously  $15
Zombie - $2 previously $10
Skeleton - $3 previously $10
Spider - $3 previously $10
Blaze - $10 previously $20
Cave Spider - $5 previously $20
Magma Cube - $2 previously $10
We also added the mob Illusioner - $20 - 12.5 job points - 20 EXP

- Stone has been updated to $0.1 previously $1
Please note: These are base values, they might be different depending on what your job level is.
mcMMO
We've balanced out a small number of mcMMO related features as they just weren't behaving the way we intended them to.
Nerfed Double Drop chance
Removed Triple Drop chance from Super Breaker ability
Mining mcMMO is now 50% more difficult to obtain
Misc Changes & Bug Fixes
Last but not least, after an impactful season of Survival, we've made a number of smaller miscellaneous changes and bug fixes to make the new season better than before!
Increased animal spawn rates and decreased mob spawn rates
Decreased Phantom spawn rate
Added /cf & /rps and fixed Coinflip and RPS Statistics on /lb not working
Added more items to the shops
Fixed team owners being able to use /team leave
/help and /howtoclaim now link to the updated Getting Started menu
Changed, removed and added some Chat Quiz questions
A message will now display in your actionbar when Treefeller is enabled
Added a /gambling menu
Increased the amount of Claim Blocks and valuable blocks you can win in crates
Crate preview/broadcast messages now show the colors of tags
We hope you're as excited as we are for the next season of Survival and we look forward to seeing you all on Sunday at 1pm EST. Feel free to let us know what you think about the reset on our Discord server: