Global Fishing Update
Hello everyone! For this week's content update we are updating some aspects of fishing on both of the realms that our recent custom Fishing Update was implemented on - Skyblock and Prison.
We received a lot of feedback from the community after we released our fishing update, which we are thankful for, and as a result of that we've got some sweet new additions that will make fishing more worth your time.
Skyblock
A mysterious set of new fish have been found swimming around the Lakes on Skyblock... no one knows where they came from, but they do know that they reap generous rewards when caught and sold!
You will now be able to catch Mobfish in the Lakes, using special new Bait. These new fish can be caught and sold at the Fishmonger for Mobcoins, or at the new Smoker for Enhanced Mob Heads.
The Smoker can be found near the Fishmonger at the /lakes, and you can sell your fish to him in return for Enhanced Mob Heads. Different types of fish can be traded for certain types of Mob Heads. Check them out below:
Common
Porky Fish - 1x Enhanced Pig Head, 100 mobcoins
Flappy Fish - 1x Enhanced Chicken Head, 125 Mobcoins
Sheepish Fish - 1x Enhanced Sheep Head, 150 Mobcoins
Uncommon
Dairy Fish - 1x Enhanced Cow Head, 150 Mobcoins
Rotten Fish - 1x Enhanced Zombie Head, 300 Mobcoins
Rare
Jumpy Fish - 1x Enhanced Rabbit Head, 500 Mobcoins
Fish Bones - 1x Enhanced Skeleton Head, 600 Mobcoins
Spider Fish - 1x Enhanced Spider Head, 700 Mobcoins
Epic Fish
Fiery Fish - 1x Enhanced Blaze Head, 1000 Mobcoins
Golden Fish - 1x Enhanced Pigman Head, 1200 Mobcoins
Boomer Fish - 1x Enhanced Creeper Head, 1400 Mobcoins
Ender Fish - 1x Enhanced Enderman Head, 1500 Mobcoins
Legendary Fish:
Mechanical Fish - 1x Enhanced Iron Golem Head, 3000 Mobcoins

Baits
As we previously mentioned, you will need to use special bait in order to catch the new Mobfish. There are 4 types of bait, with each one allowing you to catch a certain group of Mobfish. These new baits can be found alongside the original baits in the Fishmonger.
Herbivore Bait (Old Rod) - Pig, Sheep, Cow, Chicken
Omnivore Bait (Novice Rod) - Zombie, Rabbit, Skeleton, Spider
Carnivore Bait (Apprentice Rod) - Blaze, Pigman, Enderman, Iron Golem
Super Bait (All Rods) - All Mobs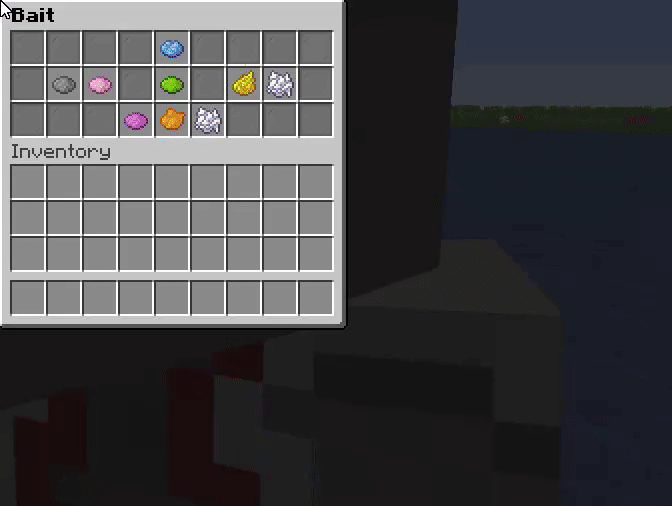 Prison
We've made a series of changes to fishing on Prison to give it a more unique Prison feel. On Prison, a lot of features revolve around Candies, so we've updated the fish to be more Candy-related. This includes changing the type of fish you can catch, the rarity names, fishing rod names and adding custom fish textures.
Here are the types of fish that you can now catch:
Jelly Octopus
Gummy Jellyfish
Gummy Shark
Mangled Candied Fish
Regular Candied Fish
Bloated Candied Fish
We updated the rarity names to match the Candy rarities:
Here are the updated Rod names:
Red Vine Rod - Jelly Octopus, Gummy Jellyfish, Gummy Shark, Mangled Candied Fish
Fruit Rollup Rod - Jelly Octopus, Gummy Jellyfish, Gummy Shark, Mangled Candied Fish, Regular Candied Fish
Strawberry Lace Rod - Jelly Octopus, Gummy Jellyfish, Gummy Shark, Mangled Candied Fish, Regular Candied Fish, Bloated Candied Fish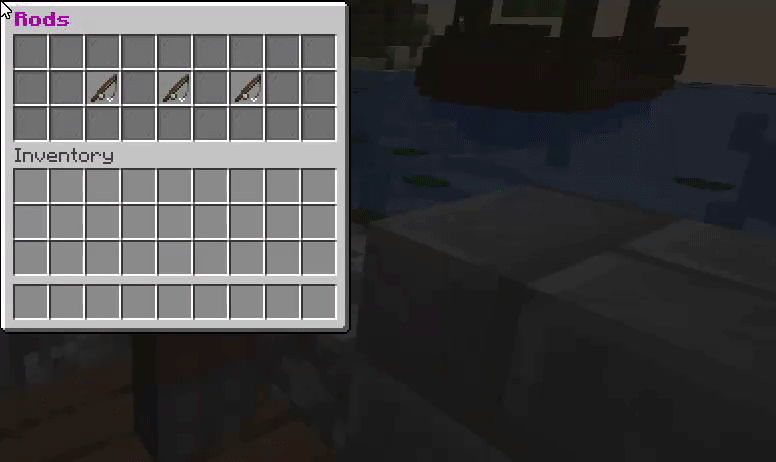 We added custom textures for the fish, now you can clearly identify each fish by how it looks!

The SugarSmith
Introducing a new building that you can place on your plot, the SugarSmith! This sweet new building turns Candied Fish, into ordinary Candies depending on their type and rarity. Higher tiered fish will produce more Candies, with certain rarity of fish creating the same rarity of Candy - so rare fish = rare candy.
To claim your first SugarSmith for free, type /sugarsmith in the chat.
Here's what you can expect to get out of each fish:
Mangled Candied Fish - 1-5 Candies
Regular Candied Fish - 6-10 Candies
Bloated Candied Fish - 11-15 Candies
New Candies
Along with the fishing changes, we've added some new candies that can aid you in getting more out of your fishing experience.
Butterfinger - Boosts chances to catch a higher rarity of a fish
Refreshers - Increases chances to catch a fish that weighs more
Skittles - Higher chance of catching candied fish
M&Ms - Increases the chance to catch multiple fish
Candy Wrapper Bait
There's a chance to get a Candy Wrapper bait when consuming any candy. You can also purchase Candy Wrapper Bait directly from the Fishmonger.
We hope you enjoy this week's content update, be sure to try it all out at /lakes and feel free to leave us your feedback on our Discord server over in #player-suggestions!