It's been a great year. At around this time in 2014, we acquired PrimeMC and have done so much since!
​
Here are just a few of our team's accomplishments this year:
Passed 3000 concurrent players! :O
Welcomed tons of new Youtubers, namely dusdavid, Logdotzip, Graser, Kiingtong, Grapeapplesauce, PrivateFearless, and CreeperFarts.
Held a top-five ranking throughout the year on massive voting websites.
Squashed tons of bugs and released so many new things.
The above would have never been possible without my amazing staff team and you, the player. I am really grateful to have the opportunity to lead such a great staff team, community, and server.
Thank you. You have forever changed my life.
To celebrate PrimeMC's birthday and this year's accomplishments, we have...
Hey, everyone! I'm super pumped to announce two of our recent highly-requested additions - Item Filters & Discord.
Item Filters:

This brand-new feature will allow all players to toggle what items they'd like to be pick up while they play on our SkyBlocks. An item filter is especially useful for grinding and farming on your islands! One can tweak these filters using a simple command -
/itemfilter
. Upon typing this in chat, a simple GUI will fill your screen with the many options available for your filter. Here are a few screenshots to build #hype for when you log in next:
​
You can even create profiles... How convenient!
​
...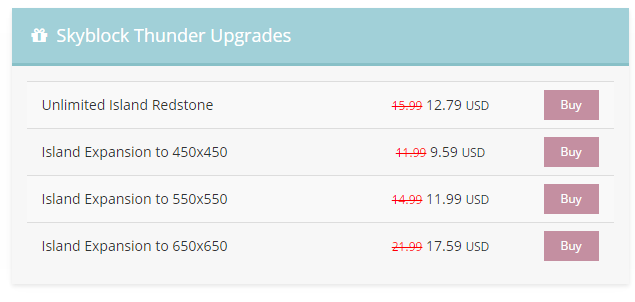 Hey, everyone!
I am very pleased to announce a fantastic and
highly requested
new feature. Huge shoutout to all of you who suggested this addition, specifically
@ItsThaBoy
whose suggestion
@chckn
spotted and immediately began work on since it was such a good idea!
Island Upgrades are now live.
This new addition, depending on the upgrade you decide to purchase, can either
increase your island building limit
and
allow for unlimited island redstone.
You can view more information about each upgrade available on the server store.

​
See you online!