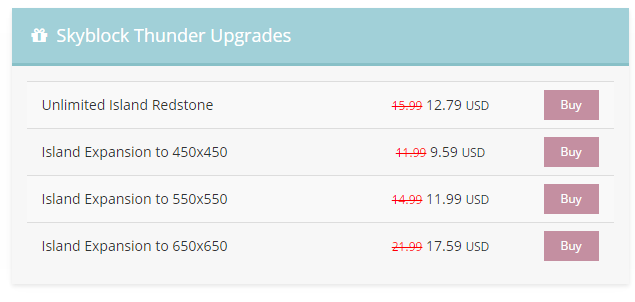 Hey, everyone!
I am very pleased to announce a fantastic and
highly requested
new feature. Huge shoutout to all of you who suggested this addition, specifically
@ItsThaBoy
whose suggestion
@chckn
spotted and immediately began work on since it was such a good idea!
Island Upgrades are now live.
This new addition, depending on the upgrade you decide to purchase, can either
increase your island building limit
and
allow for unlimited island redstone.
You can view more information about each upgrade available on the server store.

​
See you online!
After weeks of hard work and dedication from our team, we're incredibly excited to announce the highly anticipated reset of our Prison game mode! We don't have a definite time as to when this is going to happen yet, but the server will be resetting within the next week. I'll update this post once I have more information.
​
Tokens:
We've completely revamped our tokens system and economy. Tokens are now exclusively used to upgrade backpacks and pickaxes. Tokens are obtainable through lucky blocks, which is found every 700 blocks mined or so. Players typically get between one and five tokens per lucky block mined.
​

Custom Enchantments:

We've removed a quite a few enchants as they were deemed overpowered by our loyal prison community. As seen in the screenshot below, the only remaining enchantments that we will allow you guys to upgrade are JUMP, HASTE, SPEED,...
​
After lots of thought, development, and balancing, we have decided that this addition is ready for release and that you guys will love it just as much (hopefully more) as you enjoyed last weeks'
Spawner Update
. Thanks for all of the recent support! We are extremely excited to announce that our
Mob Whackers
update is now live on
all SkyBlock servers
!
​
Are you as tired as I am of clicking your mouse
one hundred times
or more to kill a stack of mobs with your powerful diamond sword? Well then, PrimeMC's new Mob Whackers are just for you! Mob Whackers are magical blaze rods that slaughter multiple monsters with
a single click of the mouse
.
​
As you can probably tell, you may upgrade this item using a simplistic...